Rangeland Quality Meats
Rangeland Quality Meats was formed in late 2010, when the Hughes and Dobbin families combined their passions for Australian beef in order to produce premium beef supplied directly to the consumer. Both families have a long association with producing Red Meat, and the decision to begin a RQM seemed like a natural progression. Our aim is to provide a true 'paddock to plate' experience.
Rangeland Properties
Rangeland Quality Meats beef is supplied from the Hughes family properties which are located in Southern and Central Queensland, they cover a land area totalling more than 74,000 acres and carry 4,000 breeding cows and 4,000 young stock.
As all Australians are aware, we live in a country of vast climatic variations, and we often find ourselves living in extreme conditions (whether it be drought, flood, bushfire or snow). With this in mind, the cattle are grazed with a priority placed on paddock conservation, grass quality and preservation of local plant and animal species. With a history steeped in managing the grazing pressures and extreme climate of Australia, the team at Rangeland Quality Meats are perfectly situated to supply a reliable, high quality product.
Rangeland People
Philip & Adele Hughes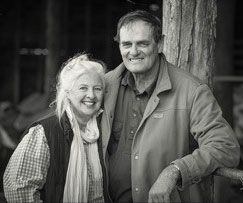 Philip is a 4th generation cattle producer with 45 years experience in the Queensland beef industry. Philip has managed extensive cattle stations for a corporate cattle company and developed Banchory Grazing, his own family cattle business. Philips' focus is on environmental sustainability of the land and producing natural beef using humane and low stress stock handling practices. Adele, Philip's wife, is a trained Home Economics teacher with 35 years experience in all aspects of the preparation and cooking of meat products, from the family situation to catering for large numbers.
Philip and Adele won the 'Innovation in Red Meat – Producer of the Year' at the Queensland Red Meat Awards in 2012 for their creation of the Rangeland Quality Meats concept and brand.
Philip and Adele both love eating our very own Rib Fillet steak, cooked medium rare, accompanied by plenty of fresh air. Philip pays homage to his roots in the big sky country of Western Queensland by cooking his steak 'on the coals' in the way of his heritage. A campfire burned down to embers, good friends, good wine and our very own rib fillet steak.
Lachlan & Anna Hughes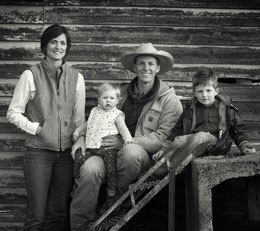 Philip and Adele's eldest son, Lachlan and his wife Anna met while studying at the University of Queensland, Gatton where both studied Agribusiness & Animal Science Degrees. They are a dedicated and keen couple, passionate about leading a healthy life and living and working in the rural industry. Lachlan is an active member of AgForce, a rural industry action group and Anna is committed to the local Playgroup, ensuring country kids have the opportunity to learn and play together.
Lachlan and Anna have made their home on the family property 'Heatherlea' and have 2 children, William and Georgia.
In their free time they pursue their interests – Lachlan breeds Australian Stock Horses, which are used on the properties for mustering our livestock and plays polocrosse on the weekends. Anna has a working Kelpie dog stud, the dogs help with stock work on the property, and the progeny have working homes all over Queensland.
Anna has been won over by our Premium Beef Mince, finding the versatility and superior quality of the product a winner with her 2 young children.
Alister Hughes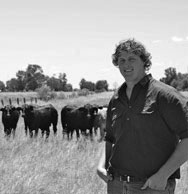 Alister, the youngest of the Hughes family, has a Bachelor of Business from the University of Southern Queensland. He has had seven years management experience in the hospitality industry and three years as a marketing executive for a multinational corporation.
Alister provides Rangeland Quality Meats with that essential connection between producers and consumers. He has a strong commitment to ensuring consumers achieve the ultimate eating experience through purchasing our consistently high quality products.
He is passionate about marketing and understands the value of supplying naturally grown quality beef direct to consumers. He is based in Brisbane and services the East coast of Australia.
Alister's favourite cut of beef over recent years is the Rangeland Porterhouse, cooked medium rare on the BBQ, but he also finds it hard to turn down our mouth watering corned silverside, which, in his words is "the best corned beef I've ever had".
Ben Dobbin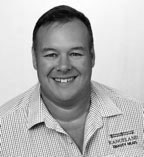 Ben has an extensive 15 years experience in the livestock industry, beginning with work as a Jackaroo in the Northern Territory, and progressing to a Livestock Agent and Auctioneer, managing branches across Queensland. Ben has won 'The Auctioneer of the Year' and still regularly auctions at charity fundraising events.
With his background in auctioneering and his former life as a Livestock Agent, Ben is carving out a name for himself in the radio world. He currently hosts the Triple M radio program "Dead Set Legends" on a Saturday morning and is also part of the NRL coverage team on Triple M for all Broncos games, NRL finals and State of Origin matches. Dobbo now also hosts his own program "Rural Queensland Today", which airs between 9-10am weekdays on the Queensland AM stations (4SB Kingaroy, 4ZR Roma, 4VL Charleville, 4HI Emerald, 4LG Longreach and 4LM Mount Isa).
A lover of red meat, Ben never passes up an opportunity for a steak sandwich with all the trimmings and topped with a delicious Rangeland Quality Meats rib fillet steak.
Jim & Sarah Lomas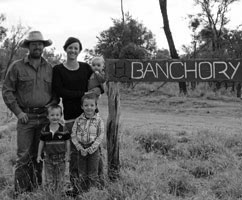 Jim & Sarah joined the Banchory Grazing team in 2014 and brought with them a wealth of knowledge and experience, having both worked on large cattle stations in South Australia, the Northern Territory and Western Australia. Both Jim & Sarah are integral parts of our business, as they are responsible for the cattle breeding side of Rangeland Quality Meats. Their hard work and commitment ensures we are able to consistently supply the highest of quality product year in, year out.
Jim & Sarah pride themselves on their high animal welfare standards and sustainable land management practices, which they believe should be the foundation of any business. Jim & Sarah have 3 young children Sturt, Kip and Riley Ann, and believe that it is essential to have beef that is hormone, steroid and antibiotic free when it comes to feeding their growing children, and wouldn't have it any other way.
The Lomas family's favourite cut of meat is one of our home grown Rolled Beef Roasts, served with roast vegetables and gravy. Jim then loves cold roast beef sandwiches for those days he doesn't make it back to the station for lunch.