Print Friendly & Email
BEEF FAJITAS – the quick RQM way!
Serves 4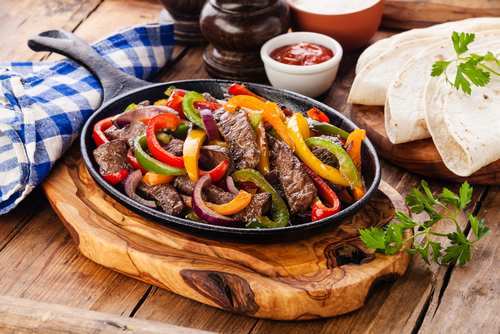 Ingredients
2 tbs. olive oil
1 x 500g pack RQM beef strips
1 pkt mild Taco spice mix (or our homemade Mexican spice mix here)
1 onion, sliced thinly
2 capsicums, sliced
1 small jar mild Tomato Salsa (see our favourite recipe here)
1 lime squeezed
1 cup sour cream
Fresh coriander chopped (or dried)
8 Tortillas
Cooking Method
Put beef strips and Taco spice mix in a bowl and toss together well.
Heat wok. Add oil.
Cook the spiced beef in wok for 5 minutes until browned, toss regularly to prevent sticking.
Add onion and capsicum and cook for a further minute or two.
Add lime juice and Salsa to beef. Mix thoroughly.
To warm Tortilla's – remove from pack, wrap in foil and heat in oven at 180° for 10 minutes.
Now…build your own Fajitas.
Place a warm Tortilla on your dinner plate; spread two spoonful's of beef mix across the middle, top with sour cream, sprinkle with coriander.
Roll up and enjoy your Fajita's. It's a bit messy, but just delicious!